Family
This past week, my sister (who I hadn't seen in almost 4 years!) and her family were staying at my Aunt's cottage which is only 1.5 hours from us. We spent one day there with just her and her family, and then went back and spent another day when my parents along with two of my other sisters came down with their families. Sounds like a lot of people, but I was still missing a sister, two brothers and two nephews.
They were both very enjoyable days, but the highlight was definitely meeting my nephew (3yrs) and niece (1yr) for the first time! When I was little we used to spend a few weeks at this particular cottage each summer, so it was a lot of fun to bring the kids there and see them enjoy the same things I used to. Sadie even caught a fish in the fishing pond! Just a small one, which she actually touched to throw back.
9 of the 11 grandsons. The oldest and youngest were missing. Do they look like cousins or what? It was so hard keeping track of who was who!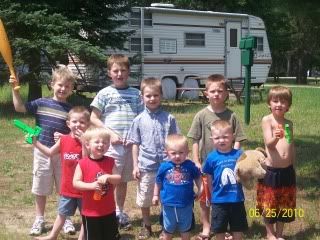 The 3 year olds. These guys were all born in May/June 2007.
The Girls. If Bekah would of been here, we would of had all the girls in the family.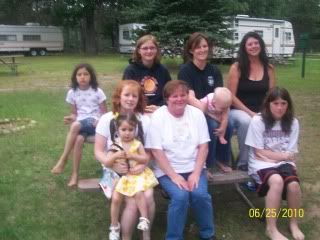 Swimming. I spent countless hours swimming in this pool when I was younger. My boys loved it just as much.