Freaky Friday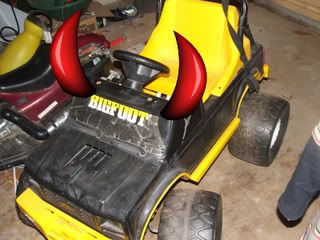 This power wheels truck has been acting up. Twice over the last week it has started beeping in the middle of the night. Constant beeping similar to a car alarm. It's interesting because a.) it doesn't stop even when you disconnect the battery, and b.) the horn doesn't even work.
Anyway, I told the boys about this the other day and they were intrigued yet skeptical. How did I know it was coming from the truck? Maybe it was a dream ect...
Well, this morning they had a chance to hear it for themselves. Elijah accompanied me to the garage to check it out. When it finally stopped and we were leaving the garage Elijah said to me "It's probably demons. They do this stuff all the time."
There you have it, the expert opinion of our resident demonologist.
I talked to the boys a little about old wires and how they can short out and stuff because I certainly don't want them losing sleep at night worrying about the demon truck.
Now, if it starts beeping some kind of freaky melody or something, then I will be worried.