31 Years Ago...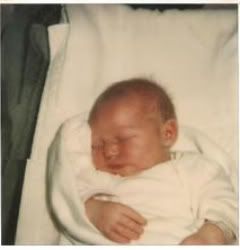 I was born!
Last year I kind of slipped my 30th by you in the excitement of Sadie's impending birth (although my friends and family did remember.)
This year my birthday started out great! Last night I got together with
Jill
and
Kelli
, and 3 hours flew by like five minutes. I spent the first 6 minutes of my birthday with them. Kelli has been my blog friend for a couple years now, and Jill has been my IRL friend for many years. They have been friends with each other since college and so Jill arranged for us to get together. It so was SO much fun.
The boys are very excited about my birthday because I told them we would take the day off from school today.