More Smocking (and Sam)
This may be Sadie's Easter dress instead, I haven't decided. I like the smocking better on this one, but I like the fabric better on the first one. I also like the pantaloons with this one, since Easter is so early this year, I don't know if I have enough fabric left to make them for the other dress. I fall asleep at night with dress ideas floating before my eyes.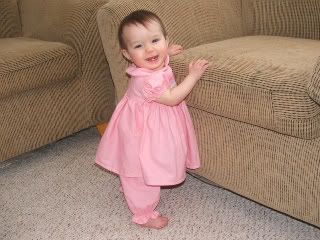 I realized I haven't shared any pictures of spiderSAM lately. He recently had a cold that triggered some asthma attacks, but he is now back to climbing the walls...literally.