Two Special Things About Today...
Sadie is nine months today! I can't really think of anything she can do this month that she couldn't do last month already. She
is
learning how to annoy Jonah by getting into his stuff when he is trying to play on the floor. What goes around comes around is all I can say.
I love this little jean skirt on her.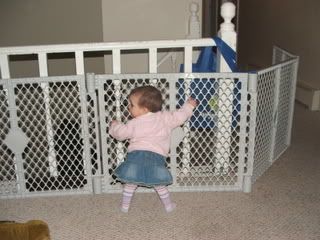 The other special thing about today is the package that was delivered. My pleater! For those who don't know, "smocking" is essentially embroidering on gathered fabric. You see it mostly on little girl's dresses, Christening gowns and other fancy baby clothes. This pleater will gather fabric so it is ready to be smocked. The book I ordered along with it seems to have some clear instructions and good illustrations. The video that came with it was very helpful too. The other thing is a magnetic rod for winding the fabric on and feeding it into the machine. It's also the perfect size and shape to be a magic wand (a la Harry Potter).