10 Months (and 1 day)
Yesterday, Sadie turned 10 months. Now we're not so much counting up as counting down until her birthday. I can't believe she will be one in two short months, but I love seeing her grow closer to toddler every day. She was at the doctors on Friday for thrush, which thankfully we seemed to have nipped in the bud pretty fast. I know from experience how frustrating thrush can be. I was almost going to wait until today to bring her in but decided I didn't want to give it two more days to spread.
The funniest thing is that she already knows that Spiderman is an important toy in this house. She rarely gets a chance to touch any of the Spiderman toys but when she does she gets all excited and breaks out this big goofy smile because she knows shes got something good. Then she looks around to see if anybody notices yet because as soon as they notice it will be taken away.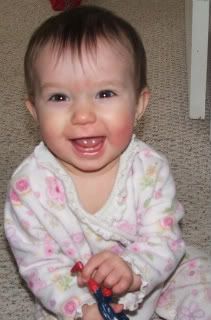 And I guess the masses spoke, and I will make a tote to give away here. I have to find some cute fabric for it first, but look for it soon.