30!!

Jeremiah turns the big three oh today. We went out to eat for lunch and had some birthday pie (he prefers pie, which is nice since we just had cake yesterday). I wanted to have a party but he nixed the idea. To think that I have been with him for half his life now!
Here is his new
gun blog
if your interested.
Happy Birthday babe! Your the best!
30 candles is a lot of fire! Jonah was so happy to help out again though.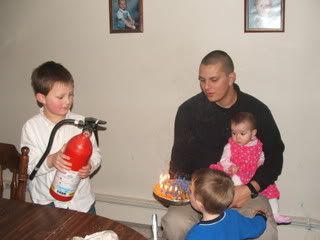 This is Jeremiah actually standing and holding all 5 kids.