7 Months
I debated whether or not to commemorate months 7-11 with a post. In the end I decided to because it's only once a month and lets be honest here, your lucky I don't post daily "look what outfit Sadie is wearing today!" updates...don't think I'm not tempted.
Something cool , at least to me, is that her eyes are turning hazel! At first they looked brown, then brown with just a
tiny
bit of green, and they seem to be getting greener by the week! None of the boys share my eye color so I'm excited.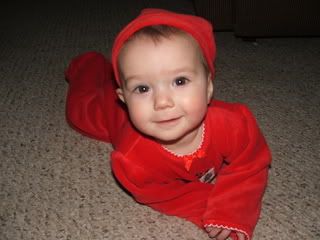 Yes, this is Sadie on her hands and knees getting ready to crawl. Anytime now (yikes!)