Socks and More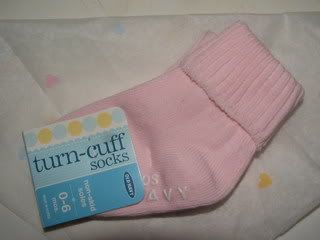 It didn't take long for some pink to arrive. These little socks arrived via mail from my cousin
Sandy
. Everytime I see them I just have to smile because there are
pink
baby socks in my house that are not for somebody else's baby shower.
I think we have our name already too. I think everybody will be surprised. I will give you a hint: It was in a Beverly Lewis book.
I wanted to answer this question that somebody asked in my comments last week:



Here's what you posted back in 2004:




While I would not trade any of our boys for any amount of girls, there are moments where I tell myself "thats it, I'm having babys until I have a girl."




....does this mean you're done after this one? I enjoy reading your blog....and congratulations.
First, I should clarify that we never planned on having babies until we had a girl. That's not what this pregnancy was about, as we had already decided on more than four before we even knew Jonah was a boy. Our family-growing philosophy is sort of in the middle. First, we obviously don't have the "heir and a spare" mentality that is prevalent in our culture. Not that there is anything wrong with two kids, I know many terrific parents who chose to have two. I don't believe for a second that having more kids means your a better parent or you love your kids more. On the other hand, we don't subscribe to the "let God determine the size of your family" philosophy either. For a couple with normal fertility that's kind of like saying "i'm going to eat 5000 calories a day and let God determine my weight". I mean, there is only one way that's going to go right?
The bottom line is we enjoy our larger family, and that is why we are still growing. Not because we feel mandated by God, and not because we were on a quest for a girl. I think we may even it out at six, though I honestly can't see more than that. I can see us doing foster care or adoption thru foster care in the future though when our own kids are older.