Happenings
I had so much fun running the last 5k that I told Jeremiah he should run one. We did something even better though, we hired a sitter and ran one together! What? Not your idea of a romantic date? :) It was a brutal run! It was a trail run, and there were so many hills including an extremely steep one that I couldn't quite run all the way up. I have to admit, in the middle of this run I was wondering why exactly I dragged myself out of bed on a rainy morning and
paid money
to be tortured like this?
Isaac will be playing trumpet in band this year. He doesn't start band class until next week, but he has been practicing and making some good noise already. I mean music.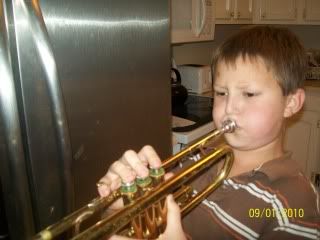 We took a mini-vacation to Mackinaw City and Sault Ste. Marie a few days ago. We got a great deal on a hotel with an indoor water park. Of course we wanted to visit our old campus in the Soo!