Sweet Dreams...and Nightmares
Remember how I've been working on Sadie's room? Well, the other day my friend calls and says her neighbor is looking for somebody who might want a canopy bed and she thought of me. Yes, a FREE canopy bed! Looks like I don't have to paint that headboard after all. They didn't have the fabric canopy to give us (I guess they had just draped fabric) so I made one. We need to get a mattress set for it, but there is no rush since she won't be sleeping in a bed anytime soon.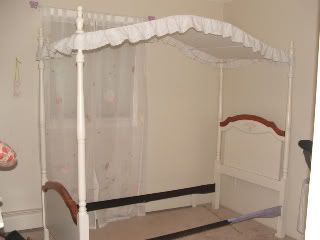 And now for the nightmare...or at least the nightmare-inducing toy part.
This was in Sammy's Happy Meal today. What do you suppose those people in China think when they are making these toys for us? "What kind of freaks are those Americans?" We rarely do the Happy Meals, but I think this was probably the last one.