Go U.S.A!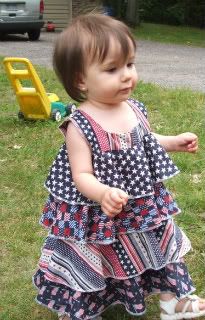 We, along with most I'm sure, have spent some time the last couple days watching the Olympics. I heard on the radio earlier that
15%
of humanity watched the opening ceremony. This is the first year that any of my boys are old enough to really comprehend the Olympics. They like the swimming and bicycle races and the weightlifting, but mostly they can't wait for the track and field events next week.
I love the Olympics and it's always fun to reflect on how much has changed in my life since the last Olympics. For instance, last time I watched the Summer Olympics in a different house with only 3 children. In fact, I've lived somewhere different for the 92, 96, 00, 04 and now 08 games!
Next time, I will have a 12 year old! Sadie will be five by then, and will no doubt have more of a say in her Olympic outfit.