Root beer!
Instead of an art project today, we did a chemistry experiment. We made root beer, and it does involve chemistry. My sister got us a
make-your-own-root beer kit
for Christmas and the boys have been so patiently waiting to make it (if by patient you mean asking 10 times a day when we are going to make root beer). Anyway, it was fun and the kit even came with a booklet to help explain the chemical reaction that occurs between the yeast and sugar. It can take days, or even weeks for the root beer to be ready so I made sure the boys understood this
before
we started. Of course, Jonah still didn't understand and you can see in the picture that he wants his bottle opened NOW.
A bonus is that our house now smells pleasantly of root beer.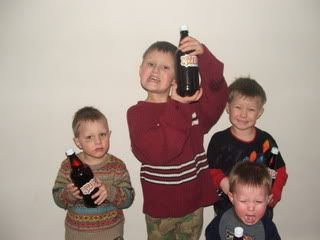 I will be drawing a name for the quilt this evening, you still have a few hours to get in!