Etchings
This week we strayed from our Art book. I saw this idea somewhere (can't remember where) and I actually remember doing this when I was in elementary.
Step 1. Color a piece of paper with a variety of colors. The secret is to press hard to make the color as bright as you can. The boys got bored after a few minutes of this part.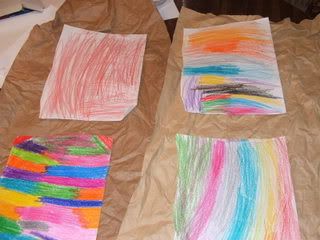 Step 2. Cover the entire paper in black tempra paint so that NO color shows. Yes, it is
messy
. Actually, we found that that a paint brush kept showing streaks of color, and our fingers worked better. The boys didn't get quite as bored with this step.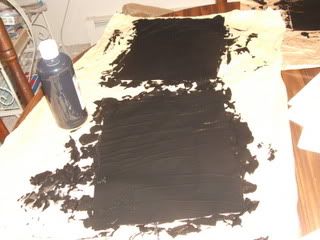 Step 3. After the paint dries, etch your picture with something sharp. We let the paint dry over night, and this morning the boys etched their pictures of dinosaurs (of course). You have to be able to press hard without tearing the paper, something they had a tough time with. However, mine was easier because I pressed my crayon harder and there was more wax which helps the paint scrape off better. Elijah's dinosaur: