Yup, I'm One of Those Moms...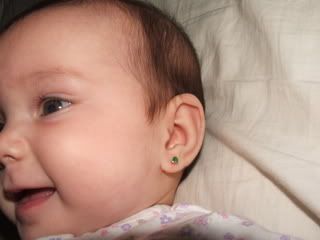 ...pierced ears before she even hit her first birthday. Even before I had any children, I always knew if I ever had a daughter I would want to get her ears pierced as an infant. Jeremiah was fine with it, obviously, or I would never have done it. When I walked in the store I wasn't
quite
sure I was ready to do it, but the ladies were so reassuring, and confident. They assured me they do babies as young as two months all the time. For her first earrings, I picked out her birth stone (I had already decided on that months ago). They marked her ears, and did both at the same time. She cried for like two seconds and was cooing and smiling by the time we left the store.