School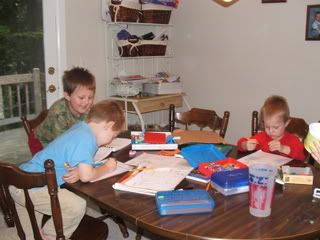 Three days of school in so far. It's going
really
well. I was pregnant for pretty much the whole school year last year, and I forgot how much more patience and energy I have when I'm not pregnant. I was pretty nervous about teaching more than one this year, but I actually like it better. Isaac always had a hard time concentrating when his brothers where off playing, so he tends to relax when they are at the table with him.
Another good choice was not to buy a curriculum. We were given some really good materials last year, so I'm taking what I like out of those as well as finding things to supplement them. So all in all, I think we're all enjoying school so far.
I did start Sam in kindergarten this year along with Elijah. He is holding his own. I do cut him some slack but I think he will do okay.
This morning when Elijah answered a question really well I felt like saying "good job! 5 points for Gryffindor"