An Outift for Every Occasion
Yesterday, I brought Sadie with me for my walk (love that Ergo). Of course, she had to put on her exercise clothes-right down to the shoes- even though she slept the whole time.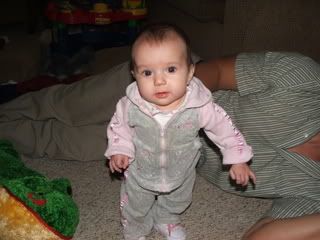 Today, one of Jeremiah's co-workers invited us to his farm that happens to be just a couple miles away. It was so much fun. They have horses, cows and chickens. Elijah even got to gather eggs. They made dinner, and brought us on a hay ride. So, what does a fashionable baby wear to a farm? Red gingham of course! Jeremiah didn't understand why red gingham works with a farm....men.