Pictures
First we have last weeks art project. I'm not sure what the point was of making these tiny houses, but hey I didn't have to buy any extra supplies and the boys thought it was fun.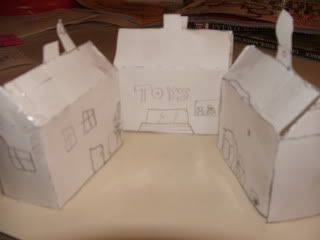 Next, I thought some people might appreciate be known as more than a picture of their bottom.
Finally, today marks the half way point in this pregnancy already! I have been feeling kicks for about four weeks already. Let's pray for a happy, healthy and
fast
second half! I have always had easy pregnancies, and have never felt in a rush to to get to the end but I must admit this time I am pretty eager to see if my ultrasound was right!