Shallow Post about Baby Clothes
For anybody looking for something deeper than baby clothes, sorry keep moving.
I have shown way more restraint buying girl clothes then I ever imagined I would. She has had so many cute things given to her, that it just makes no sense for me to spend money. I did buy a couple preemie outfits after she was born, but come on, how many times in your life do you get to shop for those teeny tiny preemie clothes? Most of the things I have bought were clearance items or from Goodwill. However, I recently found these two cute dresses that I just couldn't pass up. Both are 3-6 months, which is one size that she didn't have much in. You'll notice they both have gray/pink plaid. For some reason, I think that is so cute.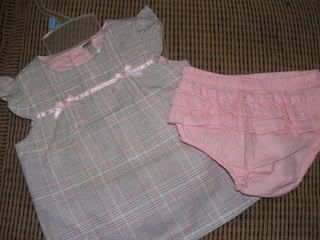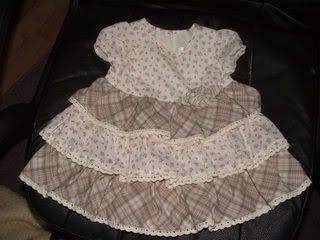 It's also weird having a daughter who is total opposite of me in terms of complexion. I'm so used to looking for earthy colors for myself, but she looks really good in the pinks that I usually avoid.