Memories In the Corner of My Mind...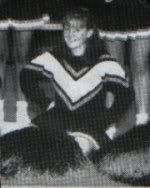 The other night as I was trying to go to sleep a high school memory just popped into my head. It was my senior year and I cheering at a boy's basketball game, either Lake Linden or Dollar Bay, I can't remember. It was our turn to do the floor cheer during a timeout. So here we are doing our cheer on the basketball court in front of everybody, and my mind totally goes
blank
in the middle of the it. I
could not
remember the cheer that I had did countless times before! To make matters worse, I was in the front so I couldn't even copy from a girl in front of me. I don't remember how I got thru that cheer, but I'm sure I looked really stupid.
Needless to say, that memory could of just stayed put in the "corner of mind" forever.