The big "5"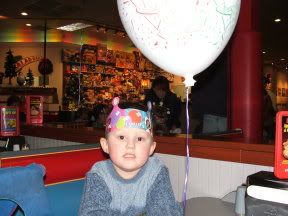 Today is Isaac's fifth birthday. Seems he thought he was going to grow overnight. The first thing he did when he woke up was weigh himself and say "I'm still 40 pounds" (really, its closer to 50). Than when he was getting dressed he asked me why his clothes still fit him.
We already went to Chuck E. Cheese but we will be having cake and ice-cream. Isaac picked out
banana
cake. "Banana might be fun" he said. I guess we will find out.
So we will be spending the day enjoying and spoiling our birthday boy.